Learning to Fly
Note: This page contains general information about learning to fly. If you are ready to join the club and want more information about Club Membership and the joining process please visit the Join UFC page.
University Flying Club members can learn to fly in our aircraft through the flying school Air Australia International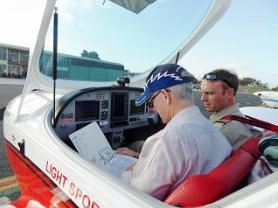 Our PiperSport is the ideal aircraft for flying training. Marketed for ab-initio training, its spacious cockpit and modern glass cockpit lay out make it comfortable and easy to fly.
A flying lesson in our PiperSport will cost approximately $328 (inc GST) an hour plus landing fees and ground charge. Please see our Hire Rates and Bookings page for up-to-date aircraft hire information.
Once you are a club member, our club instructor/s can guide you through the process and take you for your first flying lesson.
University Flying Club members are friendly and passionate about aviation so the best way to find our more is to contact the club or come along to our monthly committee meetings – Members are encouraged to attend, ask questions and meet other members. Attending the monthly meetings is also a great way to keep up to date with events and have your say in how the club operates.
Recreational Pilot License
The RPL was introduced in 2014 and is a much quicker and more affordable entry method into aviation for many aspiring aviators.
A recreational pilot license (RPL) is intended for those who want to fly purely for recreational purposes. It allows pilots to fly light (under 1500kg maximum take-off weight (MTOW)), single-engine aircraft as pilot in command and can be achieved in as little as 25 hours. The RPL also allows pilots to fly without supervision from a flight instructor or flying school once they have earned the licence – this differs significantly from the old GFPT (General Flying Proficiency Test) which allowed student pilots to fly solo with a passenger under remote supervision of an instructor – in reality the GFPT wasn't very practical and it has now been replaced with the RPL.
Excellent information on getting a recreational pilot license can be found on the Civil Aviation Safety Authority (CASA) Website at http://www.casa.gov.au/wcmswr/_assets/main/lib100191/rr61_rpl_fs.pdf
Requirements:
Be at least 16 years of age
Complete relevant flight training
Undertake general English Language Assessment
Pass RPL theory exam
Pass RPL flight test
Medical Certificate

Recreational Aviation Medical Practitioner's Certificate (RAMPC). Conducted by any General Practitioner, and only permits you to carry one passenger unless another pilot who is authorised to fly the aircraft has a class 1 or 2 medical
OR
CASA Class 1 or 2 medical. Conducted by a Designated Aviation Medical Examiner (DAME), and permits carriage of more than one passenger

Have at least 25 hours of flying time including a minimum of 20 hours dual and 5 hours pilot in command
Aviation security ID card (ASIC) to use security controlled airports (E.g. Jandakot)
Costs:
As every student is different and factors like weather, airport traffic and runway availability can't be reliably predicted every licence will vary in cost. UFC does not provide quotes on what it will cost you to get your licence or how many hours it will take – we simply provide the most affordable method of getting there. The below minimums serve as a useful guide:
Minimum 20 hours flying dual(with an instructor) in our aircraft would come to approximately $6560
Minimum 5 hours pilot in command $1640
Total cost for instruction and flight time minimum $8200
Additional costs for ground theory, flight tests, equipment, landing fees, etc
Some students will take longer than the minimum 25 hours, increasing costs
Endorsements:
For those wanting more once they have their RPL additional training can be completed to add endorsements. Some types of flights require endorsements on top of the RPL such as:
Navigation Endorsement (Allows recreational pilots to fly more than 25 nautical miles from the departure aerodrome or the associated training area)
Controlled Airspace Endorsement (Allows recreational pilots to fly in controlled airspace)
What if I have a GFPT?
Holders of a GFPT are eligible to convert their GFPT to a RPL until 31st of August 2018. It simply requires completion of an application form and flight review with an instructor. More information is available from the CASA website.
What if I hold an RA-Aus Pilot Certificate?
You can convert the RA-Aus Pilot Certificate to a RPL. This requires completion of an application form, supporting evidence and a Flight Review. If you have navigation endorsements on your RA-Aus Licence these will be retained with your RPL. More information is available from the CASA website.

Private Pilot License
Intended for those who wish to fly aircraft or conduct flights which the recreational pilot license (RPL) doesn't permit. E.g. Larger aircraft than recreational types, Instrument flights, Night flights, Twin Engine, etc (some of which require endorsements which cannot be obtained under RPL). This is also generally the first step for those wishing to become commercial pilots. Private pilot license is more internationally recognised and allows you to fly in Australia and other countries (subject to their regulations, some limitations/requirements usually apply)
Excellent information on becoming a private pilot can be found on the civil aviation safety authority (CASA) website at http://www.casa.gov.au/scripts/nc.dll?WCMS:STANDARD::pc=PC_102025
Requirements:
Be at least 17 years of age
Pass PPL Theory exam
Pass PPL flight test for license and category rating
Medical Certificate

Recreational Aviation Medical Practitioner's Certificate (RAMPC). Conducted by any General Practitioner, and only permits you to carry one passenger and only in recreational aircraft
OR
CASA Class 1 or 2 medical. Conducted by a Designated Aviation Medical Examiner (DAME), and permits carriage of more than one passenger

Aviation Security ID card (ASIC) to use security controlled airports (E.g. Jandakot)
Costs:
As every student is different and factors like weather, airport traffic and runway availability can't be reliably predicted every licence will vary in cost. UFC does not provide quotes on what it will cost you to get your licence or how many hours it will take – we simply provide the most affordable method of getting there. The below minimums serve as a useful guide:
Total cost for instruction and flight time minimum $24,600 – consisting of:

Minimum 65 hours flying dual(with an instructor) in our aircraft would come to approximately $21,320
Minimum 10 hours pilot in command $3,280

Additional costs for ground theory, flight tests, equipment, landing fees, theory tests, etc
Some students will take longer than the minimum 75 hours, increasing costs